XenForo Sürümü

XenForo v2.1+
Bir çok kullanıcımızın talebi doğrultusunda,
Editor & BB Code Manager eklentisi için Türkçe dil paketini oluşturmak istedik.
Eklentiye aşağıda verilen bağlantıdan erişim yapabilirsiniz.
Editor & BB Code Manager Description Fully customize your XenForo Froala instance. Change your toolbar layout, enable and disable BB Codes, make use of the new table and background-color BB Codes, provide exciting new fonts for your users from...
xenforo.com
Dil paketine gelince lütfen piyasa olan mevcut dil paketleri ile karşılaştırmayınız. En ufak bir bağlantı vs. eklenmiş link içermez.
Her cümlesi bire bir çeviri ile hazırlanmıştır. (Aşağıda bazı görsel çıktılar bulunmaktadır)
Editör Yönetimi/Buton yönetimi

Kullanıcı İzinleri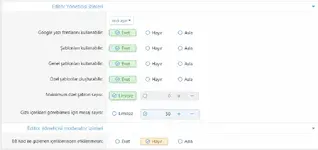 Eğer daha önce bu eklenti için bir çeviri yada dil paketine sahipseniz Yardım sayfasında bulunan BBCode seçeneklerini kontrol edin
...
Bu çevirinin ne denli gerekli olduğunu her aşamada fark edeceksiniz.