XenForo Sürümü

XenForo v2.1+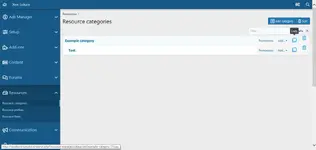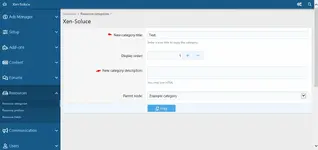 Description
:
This add-on allow you to copy your categories for the XFRM when creating new categories.
Feature summary
:
Options :

Copy category :

New category title
New category description

Copy child category :

New child category title for "X.."
New child category description for "X.."
Branding
:
This add-on does not include branding.
Installation
:
Download and unzip it.
Copy the src/addons/XenSoluce/CopyCategoriesRM directory to your server.
From the AdminCP install the add-on.
Note
:
Eklenti Açıklaması
Eklenti XenForo Kaynak Yöneticisi için mevcut kategorileriniz kopyalayarak çoğaltmanıza olanak sağlar.
Eklenti Çalışma Prensibi
XenForo ACP Erişimi Yaparak:

XenForo Kaynak Yöneticisi Alanında:

Kaynak Kategorileri
Belirlenen Kategorinin (Kopyalanacak Kategorinin Seçimi)

Yeni Kategori Oluşturma:

Yeni Kategori Başlığını Giriniz
Yeni Kategori Açıklamasını Giriniz.