XenForo Sürümü

XenForo v2.0-2.1, XenForo v2.1+
[XTR] Hot Threads
Bu basit eklenti ile oluşturulmuş konularınızın cevap sayısına göre konu başlıkları yanında hareketli bir alev simgesi gösterir.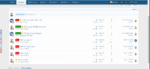 Stil özellikleri alanından basit bir şekilde yönetebilirsiniz. Belirleyeceğiniz konunun cevap sayısına göre hareketli bir .gif uzantılı resim seçebilirsiniz. Resim boyutu 16x16px olması gerekir.
[XTR] Hot Threads
This simple addon shows a moving flame icon on thread list.
You can manage your hot threads with the reply counts.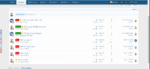 You can control your hot threads with the style properties . Just select a moving image with .gif extension according to the number of answers. Image size should be 16x16px.